Looking For Affordable Exterior Shades In Savannah?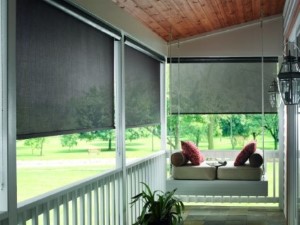 Exterior shades are the perfect solar covering for windows or for adding shade to porches, decks, pergolas, sunrooms, and patios. They help to control heat, light, and glare while maintaining the view.
You can find affordable, quality made exterior shades at Savannah Blinds Shutters and Shades. We are direct dealers of quality made window coverings from manufacturers like Draper, SWFcontract, Hunter Douglas, Insolroll, Norman, O'Hair, Sunesta, and more.
Our high-quality exterior roller shades feature heavy-duty brackets, headboxes, hembars, side guides, guide wires, and fabrics. You have several control options including crank operated, clutch operated and motorized. The fabrics and hardware are durable and weather resistant, perfect for exterior use.
Savannah Blinds Shutters and Shades has the best prices you can find for exterior roller shades because we are direct dealers. Our in-home or at your location design consultation gives you the opportunity to work with an experienced designer and examine the quality of the materials up close. Give our Savannah Shutter Company a call today, let's find the perfect exterior shades for your home or business!
Heavy Duty Exterior Roller Shades
Exterior shades need to be durable so they stand up to adverse weather conditions. our quality made exterior roller shades are made to withstand wind and weather. The headbox, hembar, fabrics, and side guides are built for durability. The headbox is the case that covers the operating mechanism of the shades. The hembar is the bottom rail which is attached to the fabric. The side guide and guide wires keep the shades stable and guide them as they are opened and closed.
Commercial Exterior Solar Shades
We are direct dealers of SWFcontract TrueOutlook™ Skylight & Bottom Up Solar Shades. They are perfect for managing sunlight in your commercial interior. The fabric optimizes natural light as it controls heat and glare. They operate very smoothly due to the heavy duty control system. Fabrics are strong and durable, available in a range of colors and opaque or sheer weaves.
Motorized Roll-Up Outdoor Exterior Shades
Our exterior shades can be motorized for easy control. You can raise, lower, and adjust the shades with a sophisticated operating mechanism that is installed by our experts. You'll be able to operate your exterior shades by using a handheld remote, tablet, smartphone, laptop, or desktop computer. We can also install an in-wall wireless switch with transmitter and timer control, or if you wish we can hardwire a wall switch.