The Best Storm Panels In Savannah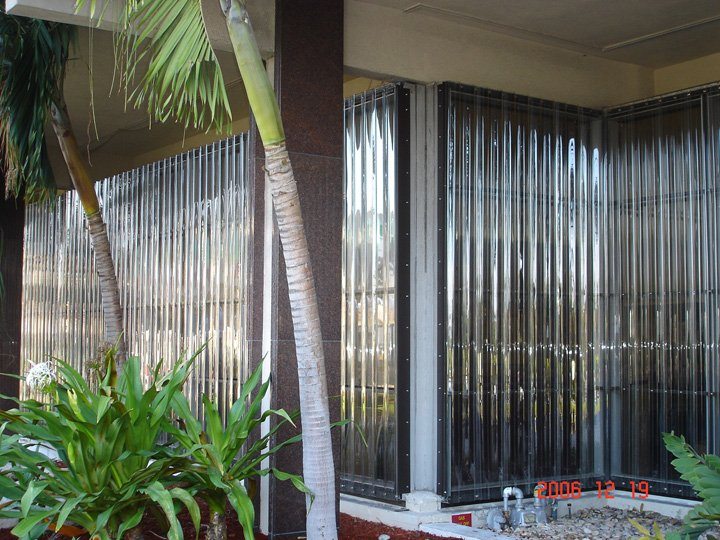 You can protect your home from any storm with our durable storm panels. Hurricane panels are great to use instead of boarding up the house if you know the bad weather is coming. In Savannah, it can be very important to have something covering the windows and glass doors. But you do want to be careful when choosing storm panels because they are not all made the same. Some are very hard to open and close, and there are some that aren't made well.
Whether you want accordion shutters, rolling shutters, or storm panels, our Savannah Shutter Company has many affordable options available. All our storm panels are custom fit to the exterior so don't worry if you have odd shaped windows or large fixed-glass windows.
Custom Storm Panels
Commercial & Residential Storm Panels
Quality Products & Quality Installation
Nearly A Decade of Service In Savannah
Free Consultations
Free Measuring
Aluminum Storm Panels
A hard exterior aluminum storm panel will protect your home or office from flying debris during strong winds and storms. The aluminum panes can be installed on a track system or directly attached to the exterior. They are engineered to meet the High-Velocity Hurricane Zone standard so you can be sure that they will do their job.
Savannah Blinds Shutters and Shades offers the highest quality hurricane shutters in the country. We only work with quality products that the manufacturer stands behind. If you need someone to come out and fit your home with storm panels, call us for a free estimate. We'll be glad to go over all the options with you.
Lexan Clear Storm Panels
Listen, so many people install storm panels and are then afraid to take them down until hurricane season is over. The window stays boarded up or covered with a panel for months on end. This is why they make clear storm panels, so you can leave them up and still enjoy the view outside.
Did you know that our Lexan storm panels are see-through? Made of fortified clear polycarbonate, the Lexan hurricane panel allows natural light in and an optically clear view from your windows. All our options are laboratory tested and building code approved storm panels that are mounted on industry standard headers and tracks.
The clear exterior panel system is coated with UV ray-blocking on both sides. The surface is scratch resistant for the maximum clarity. Lexan storm panels are a high-quality product that we can get for you at an extremely competitive price. We do the installation for you and stand behind our work.
Latest Storm Panel Project
New Retractable Awning Over Savannah Balcony

Today our team installed a retractable Awning on our clients roof top in the heart of Savannah! This awning has a 13 foot width and 11 foot projection and features a smartcase and an upgraded Sunbrel […]