Local Savannah Shutters & Window Blinds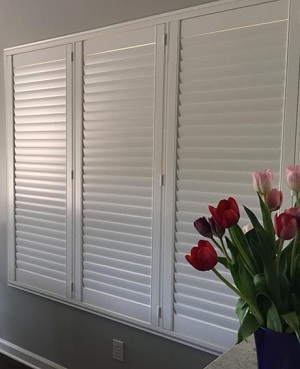 Deciding which window treatment would be best for your residential or commercial structure in Savannah doesn't have to be a complicated task. The truth of the matter is, when you make the smart first step to partner with Savannah Blinds Shutters and Shades, you can feel confident knowing that you are going to get the best results. We focus on quality workmanship, customer care and pricing. It's part of the reason we're the local favorite for Savannah shutters and window blinds.
We meet too many customers who were basically told by other so-called pros in the area that they would have to decide between quality products, appearance or affordability. There is no reason to settle for anything less than what you want. This should include not sacrificing other important traits for one another.
Even if your budget is an issue we can help you understand alternative options. For example, real wood is costly so faux wood blinds or polycore shutters in Savannah may be a better choice for you. You will still love the final results that you end up with.
Savannah Window Blinds, Shutters & Shades
What many people also do not realize is what a difference it makes to have high end quality window treatments in your home or business. It can literally transform the look and change it as much as a remodeling job would - but at a fraction of the cost. Yet it is also essential for light control, energy efficiency and privacy.
Details that go into your decision making process include:
Cost - You have to keep your budget in mind when making your choices. The good news is that we can help you cut costs with alternative solutions such as faux wood blinds in place of real wood.
Material Choice - Aside from cost, the material you choose can impact other factors. For instance, if you suffer from allergies you probably want to avoid fabrics known to trap dust and dander.
Looks - While looks are not everything, you will want a look that meshes well with your interior design aesthetically and your exterior curb appeal. You want to be as thrilled with them in a few years from now as you are when you choose them.
Don't take chances when it comes to selecting between shutters, shades and window blinds in Savannah, GA. Let our team of pros guide you through the process.
Savannah Awnings
Savannah Blinds Shutters and Shades is also the name you can rely on for specialty services like awnings. We take great pride in the work that we do and like helping every customer understand the vast variety of choices. If you have not yet considered with of these choices for your home or business, call on our shutter company in Savannah today.
Whatever you end up selecting, we can guarantee your satisfaction. Don't take chances when it comes to the level of quality you get and the contentment you get with the final results.