Exterior Shutters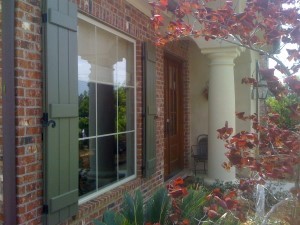 If you love shutters and are looking for the best in exterior wood shutters, you can find the best deals at Savannah Blinds Shutters and Shades, your Savannah Shutter Company.
Whether you are looking for exterior wood shutters for your Savannah home or business, we have what you need. Our exterior wood shutters come in a range of beautiful styles and finishes. We also carry paintable shutters for those who need to match a specific paint color.
All our exterior shutters are custom made to fit your windows. They are quality made from trusted manufacturers like Hunter Douglas, Norman Window Fashions, Graber, Draper, Vista Products, and more.
We offer the best prices in exterior wood shutters because our Savannah shutter company is a direct dealer. We bring our mobile showroom to your home or office, help you choose the best styles and types, and measure, all for free. Call today to schedule an appointment, you'll be so glad you did!
Board and Batten Exterior Shutters
Hurricane Shutters
Bahama Shutters
Board and Batten Exterior Wood Shutters
Board and batten exterior wood shutters are a pleasing, rustic New England inspired shutter style. Several pieces of vertical wood planks are crossed by horizontal rails to make the board and batten exterior wood shutter design. You may have seen them in the past with window flower boxes.
Savannah Blinds Shutters and Shades offers quality board and batten exterior wood shutters. Whether you prefer to install them only for decorative purposes or you plan to use them functionally for storm protection, our experts have the options you are looking for.
Savannah Wood Hurricane Shutters & Installation Services
Instead of purchasing boards that send you scrambling for nails and hammer when hurricane weather is headed our way, why not install functional hurricane shutters that are easy to open and close? We have several beautiful styles to choose from in wood hurricane shutters.
More and more homeowners are installing hurricane shutters in Savannah for protection. The best type of hurricane shutters are not only function, but beautiful as well. If you plan to install hurricane shutters on your home or commercial business, we have the wood hurricane shutters that add protection and curb appeal. We can also set you up with motorized hardware and wireless access to open and close them by using your smartphone or tablet.
Exterior Wooden Bahama Shutters
Our real wood Bahama Shutters are made of quality materials for the exterior of your Savannah home. The Bahama shutters are installed on the exterior with hinges at the top of the window instead of at the sides. They swing open and shut from the bottom. They have horizontal slats or louvers which are tilted and fixed in place. They are commonly placed on top floor windows for protection and sun-light filtering or for security on lower floor windows.