Your Source for Draperies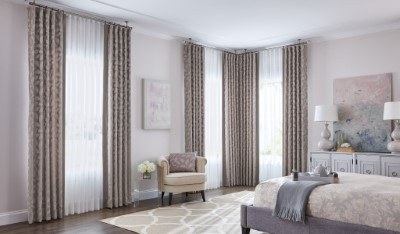 If the draperies in your Savannah home have become faded or outdated over the years, don't hesitate to reach out to a trusted drapery company like Savannah Blinds Shutters and Shades to purchase stylish, new draperies.
Along with draperies, you can choose from a variety of window treatments such as cornices and valances with the assistance of our experienced window treatment experts. Cornices and valances are decorative window treatments that adorn the tops of windows, but cornices are hard boards while valances are soft drapery panels.
Explore Various Style Options
Draperies – Our drapery company offers drapery style options such as hidden tab top, grommet style, inverted pleat, three finger Euro pleat, ripplefold, soft fold, and three finger pinch pleat.
Cornices – Homeowners can select cornices with styles such as center box pleat, champagne pleat, soft fold, scalloped edge, multi box pleat, soft wave, three finger Euro pleat, combo pleat, federal swag, empire swag, and three finger pinch pleat.
Valances – You can choose from various styles of valances, including straight classic and contoured classic.
Kirsch Hardware for Draperies
You will find an array of products that will suit the needs of any home. The variety of hardware pieces you will find will help you create a cohesive look throughout the home that will allow you to display your unique style. With custom drapery hardware, there isn't a look that you can't achieve. View the entire Kirsch Hardware Collection.
Customize Your Ideal Window Treatments
Once you've found the perfect draperies, cornices, and valances for your Savannah home, you need to select a finish for your window treatments. Our drapery company provides linen, sateen matte, and sateen luster finishes. All of these finishes are combined with light filtering or blackout lining, which protects the fabric from fading, offers privacy, absorbs noise, and prevents heat loss. These finishes can also be purchased in a variety of colors and patterns.
If you're looking for window treatment options that you can customize to suit your tastes and preferences, contact our skilled team at Savannah Blinds Shutters and Shades to purchase new draperies for your Savannah home.