Woven Wood Shades in Savannah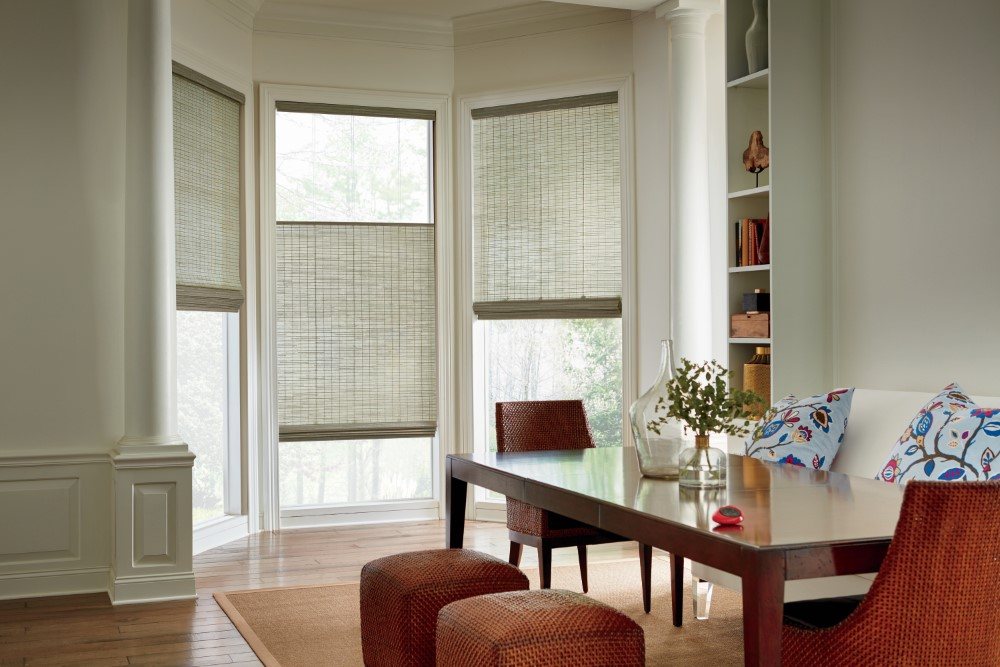 One of the most popular choices for window treatments these days is woven wood shades in Savannah. Nothing quite beats the natural look that can dress a room up or tone it down. Savannah Blinds Shutters and Shades is proud to be the local leading product and service provider for this window covering option.
One of the exciting things about woven wood is that it can be made from a wide variety of materials. This includes anything and everything from jute and bamboo to reeds and even help. Many people think that means they can only be available in earth tones but the truth is you can get colors, including blues and reds.
Another reason this type of window covering is so popular is that you have choices between how much natural light can filter through. The looser the weave the more diffused light that you can enjoy. The best thing that you can do today is let us show you the options that you have for your woven wood shades.
Using Woven Wood Shades in Savannah & Nearby
We like to point out the many benefits consumers can enjoy from choosing woven wood shades. It is not just about attractive looks, although that certainly does not hurt. Some of the benefits you can expect from this type of window treatment are:
Not only are they ideal for those who like that "natural and organic" look but they are engineered from renewable resources
If you do not always want to have natural light filtering through, you can pair this shade with a liner to help enhance the light and privacy control
You have a variety of shade styles to choose from when it comes to this natural material
They can enhance the look of any room but also add property value to your residential or commercial structure
Yet, to find out all that you need to know it is important to give us a call and get the details. We look forward to meeting with you and providing you with the information that you need.
This will enable you to make a choice based on logic and not just visual aesthetics. Call today to get started with natural shades for your home or business.
Local Savannah Woven Wood Shade Experts
At Savannah Blinds Shutters and Shades we have been providing expert care and window treatments in Savannah for our local clients for close to a decade now. We continue to be committed to superior quality workmanship and customer care. We want you to be able to love, and not just live with, your window treatments for years to come.
Don't ever settle for less than the best best or for less than what you really want. We can help you see the wide selection of woven wood shades and decide what would look best in your home or office. If you would like to find out more, the time to give our Savannah shutter company a call is now.