Embrace The Season: 4 Cordless Window Treatments
As we welcome the vibrant colors of and coziness of fall into our homes, there's one more thing worth embracing - Window Treatment Safety Month! We're excited to introduce you to a world of cordless window treatment options that not only enhance your space but also provide peace of mind. Explore these stylish and functional alternatives, perfect for your next home project.
Top-Down/Bottom-Up Cellular Shades
One of the most popular alternatives to corded window treatments, top-down, bottom-up cellular shades, combines energy efficiency with a sleek, cord-free design. Their honeycomb structure not only traps heat, making your space cozier for fall, but also eliminates the hazards posed by dangling cords. With a simple push or pull, you can effortlessly adjust light and privacy levels while keeping your loved ones safe.
Motorized Roller Shades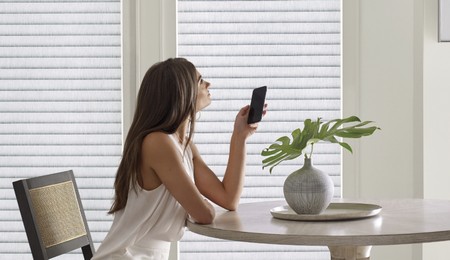 Experience the future of window treatment control with motorized roller shades. These shades offer ultimate convenience at your fingertips. With the touch of a button or even a voice command, you can raise or lower your shades, allowing you to create the perfect ambiance in your home. Plus, they're cordless, making them both child and pet-friendly.
Shutters With Invisible Tilt Bars
For those who appreciate the classic elegance of plantation shutters, consider the option with hidden tilt bars. These shutters provide the same timeless charm but without the visible cords. Adjust the louvers with ease for the right balance of light and privacy, all while ensuring safety for your little ones and pets.
Cordless Roman Shades
Roman shades add a touch of sophistication to any space, and when cordless, they become even more appealing. Their smooth operation and clean appearance make them an ideal choice for homes looking to combine style and safety. Customize them with various fabrics and patterns to suit your fall-inspired decor.
As we bid farewell to corded window treatments in the spirit of safety and the changing seasons, we invite you to explore these cordless alternatives to elevate your home. Experience the perfect blend of style, functionality, and peace of mind. To start your next project or learn more about these innovative window treatments, call us or visit our showroom today. Embrace the beauty of fall and the security of cordless window treatments with Savannah Blinds.