Hurricane Shutters and Awnings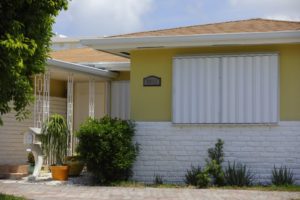 Savannah was fortunate recently to be spared the wrath of Florence's worth. However, it served as an important reminder that we are not immune to hurricane activity in this area.
As a result, there was a spike in the sales of exterior shutters, such as hurricane shutters and awnings. While it is certainly good that homeowners have been motivated to get proactive about protecting their homes, as the hurricane season comes to a close for this year, there are plenty of locals who will forget the importance.
By the start of next season, it will be a distant memory, until we are under the threat of severe tropical storms, or worse. Make the smart decision to learn more about how you can benefit from having these functional window treatments installed outside your home.
How Hurricane Shutters and Awnings Benefit Your Savannah Home
While it is true that any type of professional window treatment can enhance the curb appeal of your house, there are plenty more benefits than that!
These are more than just decorative window blinds. Adding this to your home is about protection. Usually constructed of solid steel or aluminum, these shutters are put in place to offer protection, a level of protection other window coverings cannot.
They are also more diverse because they can help safeguard more than just your traditional residential windows; they are ideal for protecting features like balconies or even storefronts. Plus, although they are called hurricane shutters, they also protect against much less severe, but sometimes just as damaging, storm activity.
This type of window treatment is a smart investment. Even though you have an upfront cost to incur, it can save you a great deal of money in the long-run. Paying for window protection is much more cost-effective than paying to repair or replace windows in your home.
The good news is that these are also meant to be used by a single person. In the event of a fast-moving storm approaching, you can put protection in place, with ease and without a team to help you.
You also get an increase in both your peace of mind and the property value of your home. Enhanced peace of mind alone is worth getting these shutters for. However, it is also good to know that the investment that you make will increase the value of your home, even if you don't plan on selling anytime soon.
Call on Savannah Blinds Shutters and Shades when you need hurricane shutters and awnings for your Savannah home. We go above and beyond to address the service needs of our clients and look forward to providing you with topnotch results.