Prepare Your Home For Storm Season: Top Tips from Savannah Blinds
Storm season is upon us, and as proud Savannah locals, we know that being prepared is key to safeguarding our homes and loved ones. At Savannah Blinds, we understand the importance of protecting your home's interior, and that's why we're here with a set of quick and effective tips to help you get your home ready for the upcoming storms. From custom window treatments to essential safety measures, we've got you covered!
Stay Informed
Stay updated on weather forecasts and alerts from local authorities. This will give you the opportunity to take necessary precautions well in advance of a storm's arrival. Having the latest information will allow you to make informed decisions to protect your home and family.
Clear Your Gutters and Drains
Proper drainage is crucial during heavy rainfall. Make sure your gutters and drains are free from debris to prevent water from accumulating and causing potential flooding. By keeping these areas clean, you can minimize the risk of water damage inside your home.
Create an Emergency Kit
As part of your storm protection plan, put together an emergency kit containing essentials like flashlights, batteries, bottled water, non-perishable food items, and first aid supplies. Having these items readily available can bring you peace of mind and help you stay safe throughout the storm.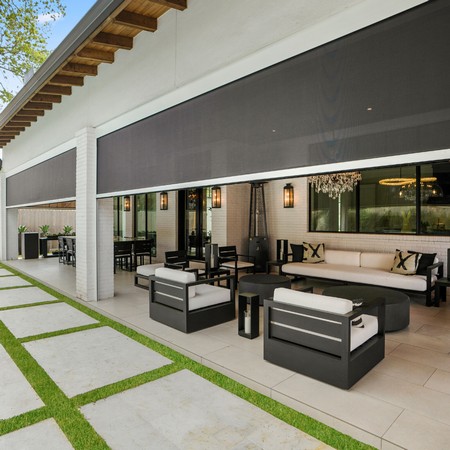 Secure Outdoor Items
Before a storm arrives, secure any outdoor items that could become projectiles into the high winds. Patio furniture, potted plants, and other loose items should be safely stored indoors or anchored down to prevent potential damage to your property.
Invest In Durable Window Treatments
When it comes to storm preparedness, your choice of window treatments can make a significant difference. Consider investing in high-quality, durable window coverings that can withstand elements such as Atlantic's Bahama Shutters or Progressive's Hurricane Screens designed with the patented Magna Track Systems built to protect your structure from category five hurricane winds, exceeding 156 mph! We have a wide range of options that will suit your aesthetic preferences and provide extra security during storms.
Reinforce Your Windows
While beautiful window treatments are essential, it's also crucial to ensure that your windows are properly reinforced. Install storm shutters or plywood panels to shield your windows from flying debris. These protective measures can help prevent shattered glass and reduce the risk of interior damage. At Savannah Blinds, we understand that your home is your sanctuary. By taking these simple yet effective steps, you can ensure that your haven remains safe and secure during storm season. Our team is here to assist you in finding the perfect window treatments that not only enhance the beauty of your home but also offer practical protection.
Get ahead of the storm season by upgrading your window treatments to stylish and durable options from Savannah Blinds. Our experts are ready to guide you through the selection process, ensuring that your choices align with your needs and preferences. Contact us today for a FREE consultation, and let's make your home storm-ready together.
Remember, with the right preparation, you can weather any storm that comes your way. Stay safe, Savannah!