How Savannah Awnings Can Work For Your Home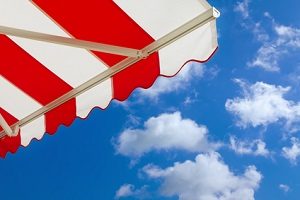 When the average person thinks of an awning they tend to think of a business. It is true that Savannah awnings have been used for a long time over local storefronts, often times displaying the name of the business. However, what many people do not yet realize is just how beneficial this could be to your very own Chatham County home.
Awnings in Savannah have become quite popular for residential application and for very good reason. This can literally change the way that you and your family are able to enjoy your very own property. Not to mention, it can help you see savings in ways you may not have already thought of.
Learning About the Advantages & Benefits of Residential Awnings
It is a real shame but a large percent of homeowners who add an outdoor living space to their home end up not even using it as much as they would like. This is because they are left exposed to the elements while sitting on a deck or patio that lacks any overhang. The end result is that people hide inside when the sun is out or when it rains, even though an awning could fix that.
So what are some other benefits of Awnings in Savannah?
Increase curb appeal - A quality awning could actually add to the visual enhancement of the exterior of your home. So now your patio is not just more functional, it will also look better too.
Help with energy efficiency - When you are able to cut down on the direct sunlight filtering into your house it will make it easier for your home to stay cool without constant use of the air conditioner. This will help keep your energy costs lower and even help make your home more environmentally responsible.
Add to your property value - When you add details to your home that make it more attractive and more functional, you can expect this to positively impact your property value. This means that you can view the money you spend for adding this feature as an investment.
These are just a few of the reasons that adding an awning makes so much sense. You owe it to yourself to see the options that you have and decide if this would be right for you. Before you know it, you and your loved ones could be enjoying a staycation in your own backyard under the protection of an awning.
Calling on the Savannah Awnings Pros
In order to make the most of this, or any of your window treatment projects, the name to call on is Savannah Blinds Shutters and Shades. We take great pride in being able to provide our clients with the best possible results.
Of course we do this by using the highest quality products. Not to mention, our Savannah shutter company  offers superior workmanship and customer care to complete the job.