Sheerly Blissful: 4 Treatments To Protect Your Home While Embracing Summer Views!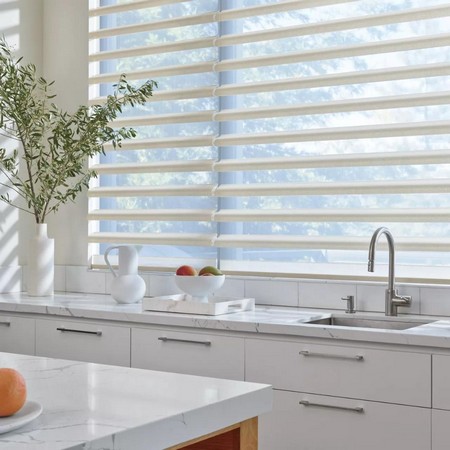 As the summer sun shines brightly, it's the perfect time to enjoy the stunning views from your home. However, it's equally important to protect your living space from the harsh effects of excessive heat, glare, and harmful UV rays. The right window treatments can help you strike the perfect balance between preserving your home's comfort and enjoying the breathtaking summer sunsets. Here are three shades that offer optimal protection while allowing you to savor the beauty of the outdoors this season:
Silhouette Shades: Embrace the Sunlight with Enchanting Glows
Imagine your room illuminated with a soft, diffused glow that mimics the enchanting effect of dusk. Silhouette shades are designed to create a mesmerizing interplay of light and shadows, allowing natural light to filter gently through the sheer fabric, resulting in a warm and inviting ambiance. These shades also provide protection against harmful UV rays that can fade your furniture and flooring over time. The beauty of silhouette shades lies in their ability to combine style and functionality effortlessly, making them a perfect choice for homeowners who seek a touch of sophistication in their living spaces.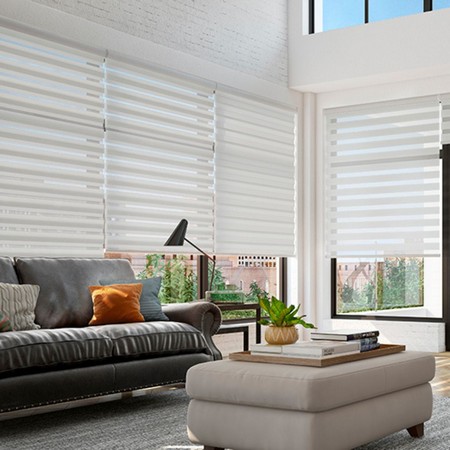 Dual Shades: The Perfect Blend of Privacy and Views
Dual Shades, also known as transitional shades, provide versatility in controlling light and privacy. These shades consist of alternating sheer and opaque fabric panels that can be aligned to create a range of opacity options. By adjusting the position of the panels you can enjoy full or partial views of the outside world while maintaining privacy when desired. Dual shades are an elegant and modern solution for those who value both aesthetics and functionality.
Pirouette Shades: The Perfect Blend of Graceful and Grace-Saving
If you're looking for shades that embody elegance and grace, Pirouette shades should be your top choice. These shades feature soft fabric vanes attached to a sheer backing, giving them a delicate, almost weightless appearance. The unique design of Pirouette shades allows you to control the amount of light and privacy with absolute ease. By simply adjusting the vanes, you can create a harmonious balance of natural light and privacy, maintaining an unobstructed view of the outdoors while shielding your home from the sun's intensity. Embrace the summer views while savoring a sense of tranquility and intimacy with Pirouette shades.
Motorized Roller Shades: Effortless Protection and Convenience
Motorized roller shades offer the ultimate convenience in managing your window coverings while preserving your stunning summer views. With the touch of a button or a voice command, you can effortlessly control the shades, adjusting the level of sunlight entering your space. These shades are an excellent choice for large or hard to reach windows, allowing you to maintain comfort and protect your home with ease. Motorized roller shades come in various fabric options as well, ensuring you find the perfect style to complement your interior design.
Don't let the summer heat and intense sunlight hinder your enjoyment of the beautiful views from your home. Invest in the right window shades that provide protection without compromising the stunning summer scenery. Consult with our experts at Savannah Blinds to discover the ideal window treatment solution for your home! Ready to find the perfect shade?
Call or visit our showroom to schedule a free consultation today and let us help you strike the perfect balance between protecting your home and enjoying the summer sun!